The Crimea Crisis from an International Law Perspective
Abstract
In February and March 2014, Ukraine was literally overrun by a chain of events that eventually led to Crimea's incorporation into Russian territory. Crimean and Russian authorities jointly used the internal conflict in Ukraine to deprive the Ukrainian government of its control over Crimea, to hold a so-called referendum, and to declare Crimea's independence. On the day after independence was declared, Russia formally recognized Crimea as an independent state,[1] and the Crimean parliament requested Russia to admit Crimea to the Russian Federation.[2] Soon after that, the accession treaty was signed, and, within a few more days, all Russian constitutional requirements for Crimea's accession to the Russian Federation were fulfilled.[3]All parties to the conflict refer to international law to justify their positions. The Crimean authorities and Russia claim that Russia had a legal basis for intervening and that Crimea had the right to secede from Ukraine. Most states, however, reject these claims. Thus, three questions are presented: Was Crimea's secession lawful under international law? To what extent has Russia violated international law? And what is Crimea's status? This article addresses these questions. Part 1 briefly describes the relevant circumstances and events leading to Crimea's secession. Part 2 reviews the legal obligations between Ukraine and Russia concerning territorial integrity and the prohibition against the use and threat of force. Parts 3 and 4 discuss the legality of Russia's intervention in Crimea and the legality of Crimea's secession from Ukraine, respectively. Part 5 concludes this article by answering the questions it raises.


[1] See "Executive Order on Recognizing Republic of Crimea," President's web-site, March 17, 2014, accessed June 1, 2016, http://en.kremlin.ru/events/president/news/20596.

[2] Luke Harding and Shaun Walker, "Crimea Applies to be Part of Russian Federation After Vote to Leave Ukraine," The Guardian, March 17, 2014, accessed June 1, 2016, http://www.theguardian.com/world/2014/mar/17/ukraine-crimea-russia-referendum-complain-result.

[3] See in regard to the Russian constitutional process Otto Luchterhandt, who argues that during that process Russian constitutional law was violated (Otto Luchterhandt, "Annexion der Krim – Putin verstößt gegen russische Verfassung," Frankfurter Allgemeine Zeitung, April 18, 2014).
References
Bowett, D.W. Self-Defence in International Law. Manchester: Manchester University Press, 1958.
Buchheit, Lee C. Secession – The Legitimacy of Self-determination. New Haven: Yale University Press, 1978.
Cassese, Antonio. Self-Determination – A Legal Reappraisal. Cambridge: Cambridge University Press, 1995.
Corten, Olivier. The Law Against War – The Prohibition on the Use of Force in Contemporary International Law. Oxford: Hart 2010.
Eichensehr, Kristen E. "Defending Nationals Abroad: Assessing the Lawfulness of Forcible Hostage Rescues." Virginia Journal of International Law 48 (2008): 451–84.
Fleiner, Thomas. "The Unilateral Secession of Kosovo as a Precedent in International Law." In From Universalism to Community Interest, edited by Ulrich Fastenrath et al. 877–94. Oxford: Oxford University Press, 2011.
Gestri, Marco. "ECOWAS Operations in Liberia and Sierra Leone: Amnesty for Past Unlawful Acts or Progress Toward Future Rules?" In Redefining Sovereignty, edited by Michael Bothe et al., 211–50. Ardsley: Nijhoff, 2005.
Greenwood, Christopher. "Self-Defence." MPEPIL, April 2001.
Independent International Fact-Finding Mission on the Conflict in Georgia, "Report." Vol. II, September 2009.
Kolstoe, Paul. Russians in the Former Soviet Republics. Bloomington: Indiana University Press, 1995.
Kryukov, Nikolai Alexandrovich. "Evolution of Russian-Ukrainian Relations: The Legal Status of the Black Sea Fleet." Military Thought 15 (2006): 120–32.
Lauterpacht, Hersch. Recognition in International Law. Cambridge: Cambridge University Press, 1948.
Marxsen, Christian. "International Law in Crisis – Russia's Struggle for Recognition." German Yearbook of International Law 58 (2015): 11–48.
Nolte, Georg. "Intervention by Invitation." MPEPIL, 2010.
Nowrot, Karsten, and Emily W. Schabacker. "The Use of Force to Restore Democracy: International Legal Implications of the ECOWAS Intervention in Sierra Leone." American University International Law Review 14 (1998): 321–412.
Oeter, Stefan. "Selbstbestimmungsrecht im Wandel." Zeitschrift für ausländisches öffentliches Recht und Völkerrecht/Heidelberg Journal of International Law 52 (1992): 741–80.
Osakwe, Chris. "States (International Law)." In Encyclopedia of Soviet Law, 2nd ed., edited by Ferdinand J. M. Feldbrugge (Dordrecht: Nijhoff, 1985).
Peters, Anne. Das Gebietsreferendum im Völkerrecht: Seine Bedeutung im Licht der Staatenpraxis nach 1989. Baden-Baden: Nomos, 1995.
Peters, Anne. "Sense and Nonsense of Territorial Referendums in Ukraine, and Why the 16 March Referendum in Crimea Does Not Justify Crimea's Alteration of Territorial Status under International Law." April 16, 2014. Accessed June 1, 2016. http://www.ejiltalk.org/sense-and-nonsense-of-territorial-referendums-in-ukraine-and-why-the-16-march-referendum-in-crimea-does-not-justify-crimeas-alteration-of-territorial-status-under-international-law/.
Raic, David. Statehood and the Law of Self-Determination. Boston: Nijhoff, 2002.
Randelzhofer, Albrecht, and Georg Nolte. "Article 51." In The Charter of the United Nations, vol. II, 3rd ed., ed. Bruno Simma et al. Oxford: Oxford University Press, 2012.
Randelzhofer, Albrecht, and Oliver Dörr. "Article 2 (4)." In The Charter of the United Nations, vol. I, 3rd ed., ed. Bruno Simma et al. Oxford: Oxford University Press, 2012.
Suksi, Markku. "Keeping the Lid on the Secession Kettle – a Review of Legal Interpretations Concerning Claims of Self-Determination by Minority Populations." International Journal on Minority and Group Rights 12 (2005): 189–226.
Tanca, Antonio. Foreign Armed Intervention in Internal Conflict. Dordrecht: Nijhoff, 1993.
Thürer, Daniel, and Thomas Burri. "Secession." MPEPIL, June 2009.
Tomuschat, Christian. "Secession and Self-Determination." In Secession – International Law Perspectives, edited by Marcelo. G. Kohen, 23–45. Cambridge: Cambridge University Press, 2006.
Wilde, Ralph. "Kosovo (Advisory Opinion)." MPEPIL, May 2011.
Wippmann, David. "Military Intervention, Regional Organizations and Host-State Consent." Duke Journal of Comparative & International Law 7 (1996–1997): 209–39.
Zimmermann, Andreas. "State Succession in Treaties." MPEPIL, November 2006.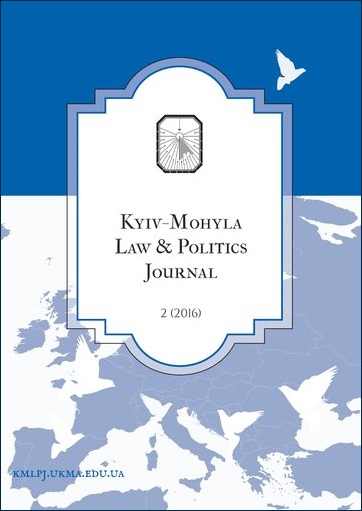 Downloads
License
Copyright (c) 2016 Christian Marxsen
This work is licensed under a Creative Commons Attribution 4.0 International License.
Kyiv-Mohyla Law and Politics Journal provides free access to original research without restriction barriers (i.e. subscription fees, licensing fees etc.).
Unless otherwise indicated, content is licensed under the Creative Commons Attribution 4.0 International (CC BY 4.0) license, which means you are free to:
distribute, remix, tweak, and build upon your work, even commercially
...provided that any use is made with attribution to author(s) and Kyiv-Mohyla Law and Politics Journal.
The copyright in the article or any other submission to Kyiv-Mohyla Law and Politics Journal shall remain with the author(s).
The journal allows the author(s) to hold the copyright without restrictions and will retain publishing rights without restrictions.